Christmas music is everywhere you go these days. In coffee shops, in your elevator and of course in the malls. Some people really love it, while others can really loathe it.
Originally posted December 13th, 2017
Christmas music is everywhere you go these days. In coffee shops, in your elevator and of course in the malls. Some people really love it, while others can really loathe it. My first Christmas album was Mini Pops Christmas - a collection of traditional songs sung to melodies of popular radio singles by little kids. A K-Tel product of course. It wasn't until I was nearly an adult that I grew to love more the classic versions of these songs. Anyone who's ever worked in retail knows how annoying retail radio is aka Muzak. However it's here that I learned the greatness of such legends as Ella Fitzgerald, Frank Sinatra and Nat King Cole. It was a bridge that eventually led me to discover their classic albums from the 50s and 60s.
Pop Music is showcasing many of the most iconic Christmas albums this season. Customers have responded feverishly to what's been featured on our Christmas wall.  The soundtrack to "Charlie Brown Christmas" is one of our hottest selling titles since we've opened our doors. The album is a great stepping stone into the holiday season - who doesn't love some jazz piano? It's also pressed on translucent green vinyl as an added bonus.
Back in 2014, Universal Music dove deep into their vaults and reissued nearly a dozen classic Christmas albums on vinyl like Sinatra's "Jolly Christmas" and Ella's "Swinging Christmas". The most notable of course was Bing Crosby's "Merry Christmas" featuring the biggest selling single of all time "White Christmas". Universal also reissued other gems such as Dean Martin's "Winter Romance" (who isn't looking for one of those?) and Nat King Cole's "Christmas Song". But if you prefer to have a bit more boogie in your Christmas, they also put out James Brown's "Soulful Christmas" and Jackson 5's "Christmas Album" that have your party guests shaking their hips.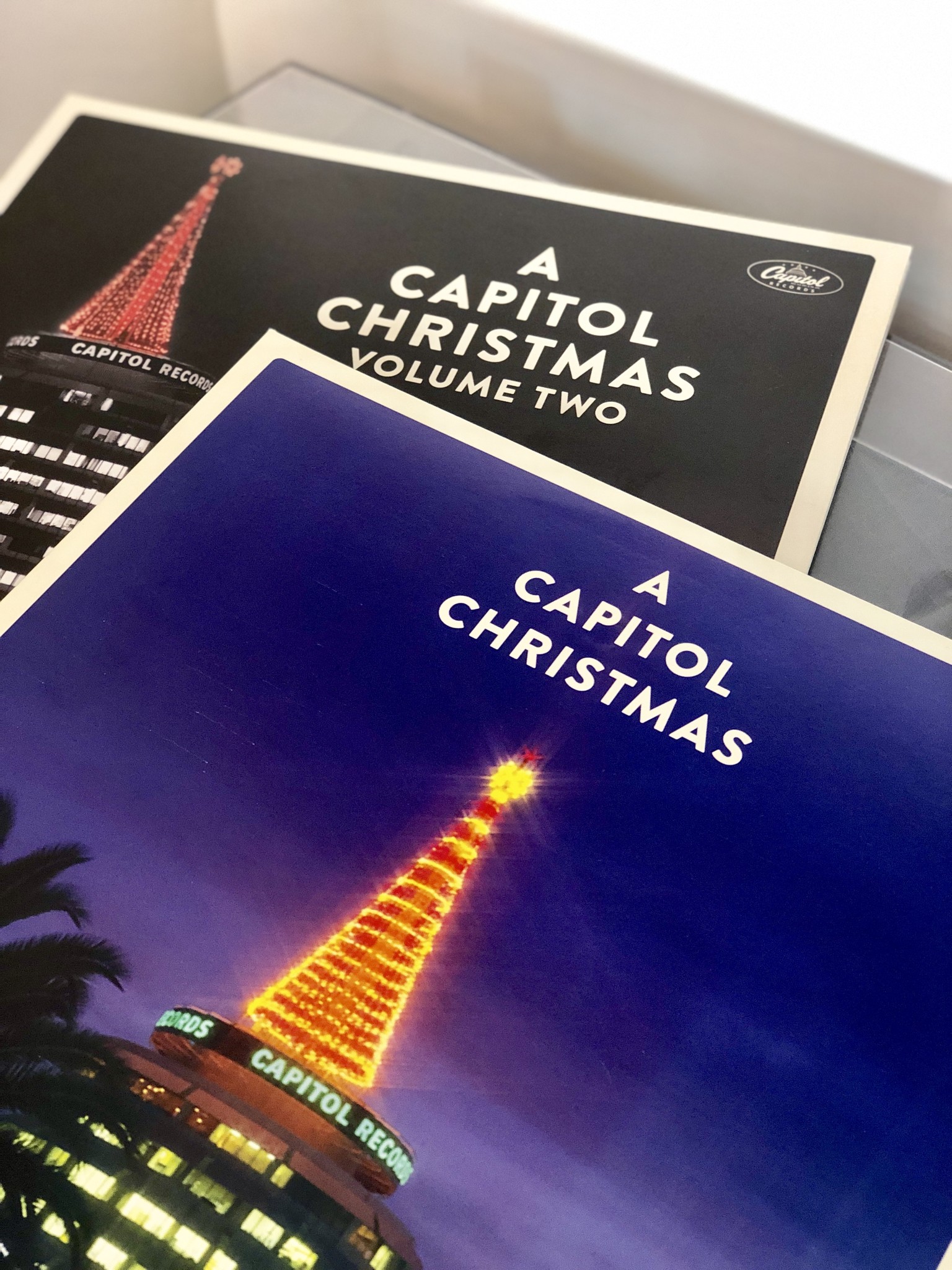 2016 marked the 75th Anniversary of Capitol Records and as a tribute, Universal Music released a new compilation album called "Capitol Christmas".  A double LP featuring many of Capitol's biggest Christmas singles from the 50's and 60's.  Literally everyone who was recording for Capitol at the time, released a Christmas album or a festive single. The popularity of this new compilation spawned a second volume that was released in 2017 that features more great singles from their legendary catalogue. What's really cool about each collection? The liner notes. They explain how each single came to be.  A serious history lesson that just needs a glass of wine to go along with it.
This year also mark's the 30th Anniversary of "A Very Special Christmas", a childhood staple for anyone under the age of 40.  The bright red album cover featured the iconic Keith Haring graffiti image of a mother holding a child - you know the one.  Such legends as Springsteen, Madonna and U2 contributed to this charity album, but it's RUN DMC who steal the show with their track "Christmas in Hollis".
Sony Music has also being reissuing some of their big holiday albums such as Boney M's "Christmas Album", Phil Spector's "A Christmas Gift For You" and Mariah Carey's 1994 blockbuster "Merry Christmas". Is there anywhere to escape from Mariah's "All I Want For Christmas Is You"?
So whatever your opinion of holiday music, trust that there are artists out there who have done it right.  No matter what decade you were born in, these albums are essential.