Pop Music offers fans the opportunity to get rewarded with product discounts and more with our new POPSTARS rewards program.
ARE YOU A POPSTAR?
Pop Music is offering fans the opportunity to get rewarded with product discounts and more with our new POPSTARS rewards program. Fans can strive to hit unique redemption tiers as they collect points on everyday purchases made at our retail store or online at POP-MUSIC.CA.
The POPSTARS program strives to recognize many of our greatest supporters, offering exclusive perks for helping us fund the Pop Music dream over the past five years. The no-fee program is entirely virtual and completely hassle free. Fans immediately earn 25 points just for joining the program, which they can do by logging into their Pop Music online account to confirm some details. Fans can also easily join POPSTARS when they make their next purchase at the retail store.
JOIN THE PROGRAM BY CONFIRMING DETAILS ON YOUR REGISTERED ACCOUNT
Fans will get a SMS text with a link to their account upon sign-up. Adding POPSTARS to a digital wallet is the easiest way to keep tabs on rewards earned and more. Fans can also earn additional points for providing us with more information about themselves. We'll be sending exclusive offers to our popstars instantly for occasions like anniversaries and birthdays, via email and SMS notifications.
$1 SPENT = 1 POINT EARNED*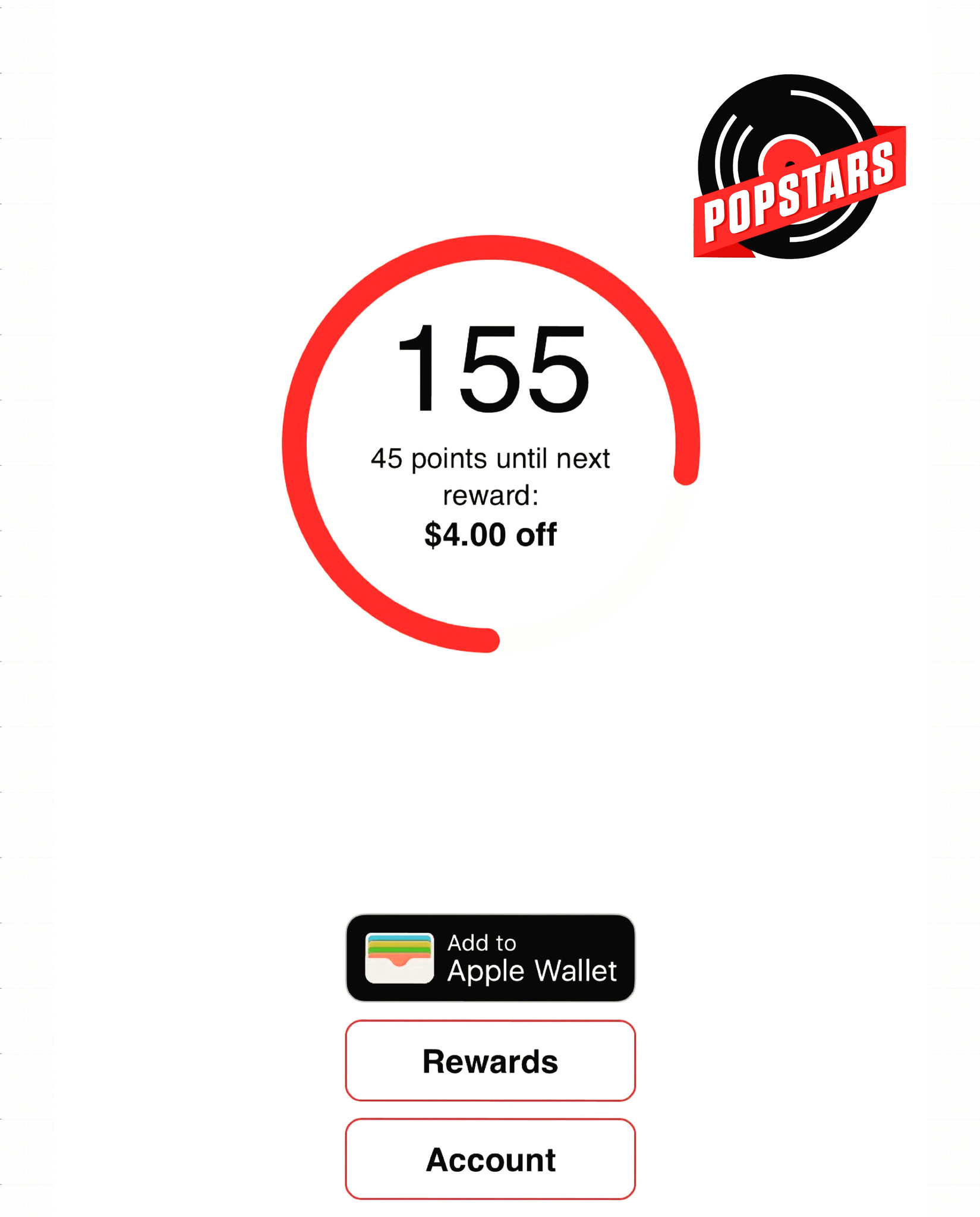 While this program is relatively easy to manage, fans should anticipate that modifications will be necessary to keep POPSTARS sustainable. This is an investment into our fanbase who continue to support us in such a hyper competitive marketplace. From the get go, Pop Music has chosen to differentiate from typical record store culture; something our fans recognize and appreciate. This program underlines our intention to offer an experience that is most valued.
There are currently seven POPSTARS rewards tiers that fans can work towards, offering product discounts based on points accumulation. With the first points redemption level being only 100 points, fans will see immediate savings coming their way if they choose to use it. Look for additional opportunities to redeem points for unique offers in the coming months.
POPSTARS REWARDS POINTS REDEMPTION LEVELS:
100 points equals $2.00 savings
200 points equals $4.00 savings
300 points equals $6.00 savings
400 points equals $8.00 savings
500 points equals $10.00 savings
700 points equals $15.00 savings
1000 points equals $25.00 savings
We are incredibly grateful for the support that Pop Music has cultivated in our short existence and trust that POPSTARS will be a very popular benefit to shopping with us. Everyone will want to collect points to earn rebates on their most wished-for albums and merch. We ask for patience and understanding as we navigate how to best use this new promotional tool. This is only the beginning.
#ForTheFans
Terms and Conditions.
Upon notice, Pop Music may, in its sole and absolute discretion, cancel, change, suspend or modify any aspect of the POPSTARS rewards program and/or any POPSTARS reward at any time, including the availability of the program.
POPSTARS points earned have no cash value and cannot be transferred between program participants. Users can only redeem points that match the amount of an existing reward level. Points redemption cannot exceed more than the total amount of the products purchased and only one redemption is permitted per transaction.
POPSTARS points are only rewarded at time of purchase and it is the sole responsibility of program participants to ensure their purchases made in-store and online have earned them rewards points. Points will not be retroactively allocated to purchases made without program participation at the time of payment processing.
*Point values are rounded down to the nearest dollar amount and not applicable on gift card purchases.